We have been operating for over 30 years on the Adelaide River, just 60 minutes from Darwin City, and are highly experienced in providing a safe, exciting, and educational experience for passengers of all ages. Cruise along the banks of Djukbinj National Park and glimpse the diverse flora and fauna that it has to offer.
The Adelaide River is well known for its high concentration of saltwater crocodiles, along with other wildlife including white-bellied sea eagles, whistling kites, freshwater crocodiles, bull sharks and Black Flying-fox. Waters of this river are also home to endangered speartooth shark and critically endangered large tooth sawfish. You never know what you might see, so keep a keen eye!
Every tour is safe, comfortable and undercover, so you can enjoy the cruise no matter what level of fitness or mobility. After all, everyone should be to witness to power of the mighty Australian Estuarine (Saltwater) Crocodile. All of our cruises have a minimum of 2 crew members on board so that while the action is happening in front of you, you can rest assured that our experienced Skippers are concentrating on keeping both their passengers and the animals as safe as possible.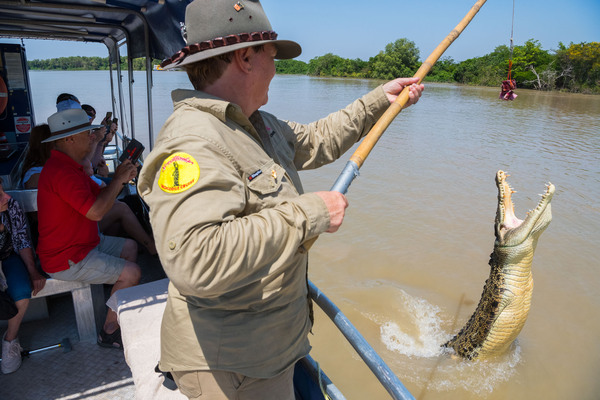 Our #1 priority for our cruises and animal interactions is safety, this extends to our passengers and crew, as well as the wild animals we are lucky enough to work with. In order to maintain a strict standard of safe and ethical interactions, we have pioneered an effort to develop an industry first Animal Ethics Policy, approved by NT Parks & Wildlife, endorsed by numerous animal behaviour experts, as well as meeting the high standard of many large international touring companies. By participating in our tour, you can rest assured that the animals are never harmed or exploited.
The crocodiles are completely wild and the behaviours we show you are based on natural hunting techniques used for catching birds and flying foxes. The crocodiles along our section of river know the sound and sight of our tour boats and know what to expect. We treat each crocodile with the respect they deserve, and do our best to ensure they are not teased or tormented, but instead rewarded for their interactions. Frequently, the interaction is the stimulus these animals are looking for, not the small food offerings. The food we offer the animals is not intended as a food source, and ensure that they are still hunting as usual and maintaining their own condition. We keep detailed logs of the animals we feed and when, making sure that no animal is overfed or overworked.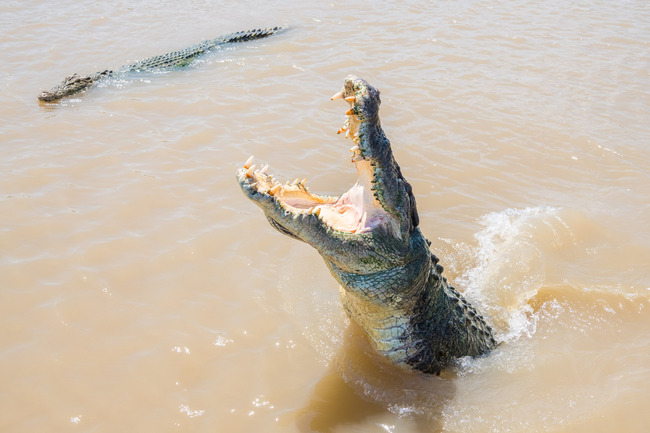 All our staff are avid wildlife enthusiasts – they know the Crocs on our section of the river by name and personality. Some of the crocs have been working with us by their choice for more than 30 years. We welcome guests from all over the world to join us to meet these remarkable creatures that we share planet earth with.
Modern Pavillion
We have built a contemporary pavilion for you to enjoy your time while waiting for your jumping crocodile cruise. This raised and covered platform provides cool breezes and a viewing platform of the Adelaide River and the surrounding floodplains. Our guest facilities offer almost a 270-degree view of the surrounding area and river.
Refreshments
Refresh yourself before or after your river cruise with our free tea & coffee, or cold drink range available to purchase. We also have a range of locally homemade ice creams and ice pops available.
Disability Access
While we have done our best to accommodate those with disabled or limited mobility, not all areas of our facilities are wheelchair friendly, however, we will make every effort to make your visit memorable. Please let us know if you require assistance, either before, or on arrival.
Gift Shop
Our two-story guest facility has a range of gifts and souvenirs to remember your visit. From stubby coolers and hats to aboriginal arts and crafts, we have something for every budget. We pride ourselves on stocking a large range of unique local business products from coffee shop books by award-winning photographers to handcrafted chocolate crocodiles, bush foods, indigenous handicrafts and art pieces that help with our commitment to support the community. These ranges often change, so a repeat visit is always an excuse to pick up that special gift
Animal Exhibits
To understand the ecology of our local area a little bit better, we have a small number of animal exhibits for your viewing. Our staff are happy to introduce you to our resident animals, as well as tell you all about the various wildlife that can be easily seen from our premises.
Free Parking
We provide free parking for all sizes of vehicles.